THISTLEBERRY
13.2hh Bay Mare: Thistleberry, the baby of the bunch and still learning her trade. She is very kind and peaceful with the younger children and still allows the older ones to jump a bit higher and go a bit faster. She loves cross country jumping, hacking around the lanes and sponsored rides.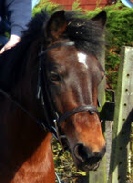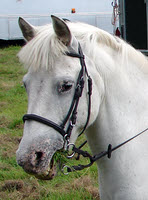 TEDDY
13hh Grey Gelding: Poor Teddy was found in a field, so covered in mud it was thought he was brown! After trying, unsuccessfully, to find the owner, it was agreed that he should stay at Eaton Thorne Stables where he would get plenty of TLC. He relishes his new job and way of life regularly hacking around the lanes and attending shows.

FREDDIE
Freddy has been with us for several years
now having been outgrown by his previous family, he is a really gentle
soul who is just as happy taking children for their first lesson,hack or
show. Rides up the road to the pub with a packet of cheese and onion
crisps his favourite treat !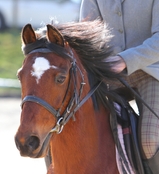 BELLE (Photo soon)
Is a 13.2 hh chestnut mare who has
been with us many years starting off as a livery as someones first pony
and has had a couple of other owners in the yard since then and has now
been given to us the enjoy her retirement and slightly slower way of
life teaching others to jump a bit higher.